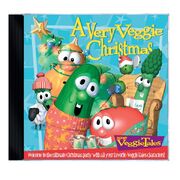 A Very Veggie Christmas is the first Christmas album from VeggieTales, and their second album overall. following the 1995 release of VeggieTunes. It was produced in 1996, and has 4 different prints. In it, Bob the Tomato is having a Christmas party with his friends. The album contains the sitting/standing gag from Rack, Shack, and Benny involving Bob/Rack and Mr. Lunt on the 11th track.
Track Listing
Talking
Feliz Navidad
More Talking
The Boar's Head Carol
Still More Talking
Vegetables Talking
Go Tell It on the Mountain
More Vegetables Talking
Angels We Have Heard on High
Vegetables Talking About Watching a Video
Vegetables Talking During a Video
More Talking
Even More Talking
He Is Born, The Holy Child
Vegetables Talking to Sheep
Vegetables Talking to a Polish Caterer
Vegetables Tire of Talking
The Big Medley! Joy to the World/Oh Little Town of Bethlehem/O Come All Ye
Away in a Manger
External Links
Community content is available under
CC-BY-SA
unless otherwise noted.