Alexander is a teenage green onion or leek, and is the prince of Monteria, the son of The King, older brother of Eloise, and the nephew of Robert the Terrible. His only appearance was in The Pirates Who Don't Do Anything: A VeggieTales Movie.
Alexander was kidnapped at the beginning of the film by his uncle, Robert the Terrible. He did manage to knock Robert's cutlass into a barrel before being taken away and robert ordered his men to capture Elosie and  take her to his hideout, he was shocked to see Eloise was captured and Robert knew how much Alexander loved his younger sister.  He remained loyal to his father, The King, and was about to lose hope when Robert threatened to kill him
and his sister, Eloise, if they didn't say when their father would return, which they didn't know. When The Pirates Who Don't Do Anything showed up to rescue them, the guard woke up and set off an alarm. Alexander grabbed the keys from George before he could explain their way out, and that got them caught by Robert when going to open the dungeon door. Luckily, George managed to get them out of the gaze of Robert and went to the bay. Alexander was very tense when Robert was about to kill them, but was relived when the King showed up. Alexander later witnessed the three pirates receive their medals from his father and their departure.
Appearance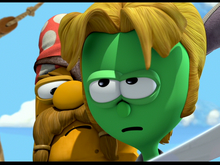 Alexander is a green leek. His hair is blonde. He has sideburns and a ponytail. His outfit is a white collared shirt, a red cloth around his waist, and blue pants. His skin color is green. His nose and eyelids are also green.
Appearances
Personality: Alexander has a loyal and honest heart,He cares for his little sister Elosie and would always do what is best for his country,Monteria.
Trivia
He's voiced by Yuri Lowenthal, well known for voicing such characters as Sasuke from "Naruto" and 16-year-old Ben Tennyson from the "Ben 10" franchise.
He was described on the Veggie Pirate Website as a Veggie Tales version of Orlando Bloom, which explains why his bravery and looks are based of Orlando Bloom's pirate character, William Turner, from Disney's "Pirates of the Caribbean" film series.
According to his trading card, Alexander gained a reputation as a prankster on the set, most notably for replacing Larry's hair gel with toothpaste. His favorite part of making the movie was stunt training and sniffing stink bugs in the park with Larry.
Community content is available under
CC-BY-SA
unless otherwise noted.