Buzz-Saw Louie is a minor character in VeggieTales. He is friends with Junior Asparagus, Bob the Tomato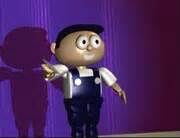 and Larry the Cucumber. So far, he has only spoke in "The Toy that Saved Christmas" but he has been mentioned and had cameos over time. In his first appearance, he was a toy who thought having more toys isn't the meaning of Christmas. He escaped the place he was made to find what was really the true meaning. Afterwards, he figured it was about Jesus and his birth. He then lived in Dinkletown and used his buzz-saw to cut wood into furniture. Later, he appeared in the stuff mart on a flag in "Madame Blueberry". And in 2008, we found out Larry was scared of him. AppareanceEdit
Louie is a Buzz-Saw Louie toy. He is made out of plastic. His skin is a light tan and he wears blue overalls with white buttons and a white undershirt. He also has brown shoes. He has ears and a blue hat that is on his short brown hair. He also has a buzz-saw strapped to his right hand. He also has a nose that you can push, and he will talk.
Acting ◾Himself in "The Toy That Saved Christmas" ◾Himself in "Madame Blueberry" (picture) ◾Himself in ""The Pirates Who Don't Do Anything" (cameo) ◾Himself in "Saint Nicholas: A Story of Joyful Giving" (cameo)
Community content is available under
CC-BY-SA
unless otherwise noted.