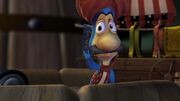 Khalil, often known as "Carlyle" by Jonah, is the dueteragonist of Jonah: A VeggieTales Movie. Khalil made his debut in the first VeggieTales film. He has blue / beige skin and a black moustache. He is a small business operator; a Persian traveling salesman. He sells Persian rugs door-to-door. After becoming a bit discouraged by his profession, he decided to set sail for greener pastures. That is when he met Jonah earlier in the film. He wears an ancient red turban with a red vest. When he and Jonah first met, he told Jonah that he is a caterpillar, but that is only half true; his mother was a caterpillar and his father was a worm, but he is okay with that now. His catchphrase is "That runs very deep in my family!". He has some headphones, which he wears to hear the Self-Help Tape voice tell him what he is.
Near the end of the film, he abandoned Jonah on a cliff because Jonah was acting self-important and pathetic. He also appears in the "present day" as the tow truck driver at the end. Twippo, who is portrayed by the same veggie as Jonah, leans on the fourth wall by asking if they have ever met.
Khalil made a few appearances in the series including The Bellybutton Song from The Ballad of Little Joe, Sumo of the Opera where he replaced Larry as Lutfi and played the part of "Cricket" in Pistachio: The Little Boy That Woodn't. He also appears in Celery Night Fever as Stix the drummer. In all his appearances to date, he is voiced by Tim Hodge.
Community content is available under
CC-BY-SA
unless otherwise noted.