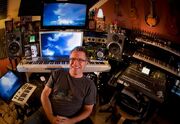 Kurt Heinecke (born in Cullman, Alabama) is an American composer and voice actor who works for
Big Idea Productions
& Quinn727 Studios, and who has created or co-created much of the popular music associated with VeggieTales.
From its beginning 15 years ago, Kurt has been the creator of the sound that has defined the world-famous VeggieTales and 3-2-1 Penguins video series. His roles have encompassed song-writing, co-writing, scoring, arranging, performance, conducting, and production. He has composed for over 35 videos, numerous cds, and 2 major motion pictures, selling over 55 million videos/dvds and over 5 million cds. In his years with Big Idea, Kurt has never wanted to "dumb-down" his music by considering it only for children. He has always challenged himself, with his education background, to create a rich palette of sounds for both kids and the discerning adult! You'll hear it in a myriad of styles, each true to its roots- from Dixieland, blues, and polkas to hard-core classical, 70's throwbacks, and emotional scores. From his tuba playing on the VeggieTales Theme Song to his co-writing of songs like The Hairbrush Song and His Cheeseburger, Kurt has left his mark on children's entertainment.
Kurt grew up in a musical family, watching his mother play organ and direct church choirs, singing next to his father in various vocal groups, being inspired by his two older brother's trumpet and woodwind playing, and performing church solos on his trumpet beginning in junior high school. When Kurt writes, he draws from this life-long experience in all genres of music, from classical to jazz, folk to contemporary. When working independently and recording at the computer, he utilizes his diverse background in both synthesis and acoustic instruments to bring a rich and varied palette to his sounds. This includes his collection of brass, wind, and percussion instruments, along with the wind controller, literally breathing life into many of his sampled sounds. Kurt is equally comfortable writing for and conducting all-size groups. These range from string sections added to his own sequences, small wind ensembles, choirs, and orchestras including the 55-piece Seattle Orchestra and 80-piece City of Prague Orchestra, used in the motion pictures he has scored. Kurt has played also Toon Friends series including, Toon Friends Unite, LarryBoy and the Lava Monster, The Night Before Christmas and much more.
Community content is available under
CC-BY-SA
unless otherwise noted.