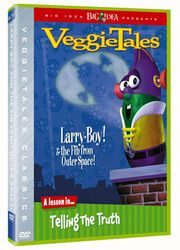 Larry-Boy! and the Fib from Outer Space! is the eighth episode of the VeggieTales animated series. It was released in April 1997 on VHS and issued on DVD March 2003. This is the first installment featuring Larry the Cucumber as Larry-Boy, the hero of the city of Bumblyburg. It is also the eighth episode to talk about telling the truth and is subtitled "A Lesson in Telling the Truth". In this story, Larry-Boy needs to confront a beastly fib which has grown beyond control. Larry-Boy! and the Fib from Outer Space! was so successful it has spawned two sequels to date.
Characters
Larry the Cucumber Larry-Boy As Himself
Bob the Tomato Debut
Archibald Asparagus Alfred As Himself
Percy Pea
Li'l Pea
Pa Grape (cameo)
Ma Grape (cameo)
Tom Grape (cameo)
Rosie Grape (cameo)
The Peach (cameo)
Jimmy Gourd
Jerry Gourd
Mr. Slushy (mentioned)
Fibrilious Minimus (debut)
Junior's teddy bear (Mr. Snuggly) (debut)
Junior Asparagus
Unnamed asparagus daugther (debut, picture only)
Laura Carrot
Art Bigotti (debut, picture/mentioned)
Dad Asparagus
The Scallions (cameo)
Unnamed I.R.S. agent (cameo)
blue plastic wind-up lobster (cameo)
Frankencelery (cameo)
Lenny Carrot
Mom and Dad Carrot (cameo)
Unnamed female and male asparagus (debut)
The Cow (debut)
Scooter Carrot
Dad Pea (cameo)
Mr. Nezzer (cameo)
Mom Asparagus
Red Fib (debut, ending only)
Qwerty
Asparagus singers (music video only)
Billboard lemon (debut, music video only)
Community content is available under
CC-BY-SA
unless otherwise noted.