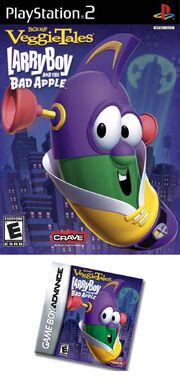 LarryBoy and the Bad Apple is a video game that was released for the PlayStation 2 and the Game Boy Advance. It is based on the episode, LarryBoy and the Bad Apple. The PlayStation 2 version is a slow-paced platformer that consists of many puzzles LarryBoy must solve in order to proceed, while the GBA version contains more quickly paced platforming with fewer puzzles involved.
Plot
The plot is essentially the same as the original episode, but with added characters, plot points, and a different time line.
Gameplay
The PS2 version is a 3D platformer, similar to other games like Super Mario 64. In the game, you play as LarryBoy, who has to fight the Bad Apple and save his friends from temptation. Throughout the game, you also collect musical notes, which come in many different colors of the rainbow. There are also puzzles you must solve to complete the many levels, such as a piano pattern puzzle in LarryBoy's Chocolate Temptation stage. Also, in Bumblyburg, you can also look for little kids playing hide and seek. The GBA version is much different than the PS2 version. It is a 2D platformer, similar to that of Super Mario Bros, and is much quickly paced with fewer puzzles involved.
Reception
The game received mixed reviews. On IGN, the game received a score of 4.8. In Metacritic, the game received a Metascore of 61 mixed or average reviews based on 4 critics. And in GameFAQs, the game received a rating of 3.52 out of 5.
Community content is available under
CC-BY-SA
unless otherwise noted.