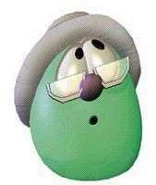 Ma Grape is a minor character in the VeggieTales series. She is the wife of Pa Grape and the mother of Tom and Rosie Grape. Ma Grape first appears in "God Wants Me To Forgive Them" She and her family didn't know it was wrong to hurt people, until Dad Asparagus taught them to be kind. She then appears again in "Abe And The Amazing Promise." She also appears in the VeggieTales book Bob and Larry's ABC's.
Appearance
Ma Grape is an elderly green grape. She has a purple nose and wears moon glasses colored gray. Her eyelids are colored gray, too, and also hair.
Acting
Herself in "God Wants Me to Forgive Them!?!"
Herself in "Larry-Boy and the Fib From Outer Space"
Jetro's Wife in "Moe And The Big Exit"
Sarah in "Abe And The Amazing Promise"
Herself in "Princess And The Popstar A Story Of Trading Places"
Emma in "Merry Larry and the True Light of Christmas"
Emma in "Celery Night Fever"
Emma in "Beauty and the Beet"
Community content is available under
CC-BY-SA
unless otherwise noted.