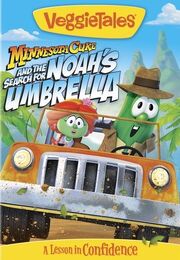 Minnesota Cuke and the Search for Noah's Umbrella
is the 38th episode in the VeggieTales animated series. The episode was produced by Big Idea Productions and will be released through Boomerang Media. It will be released in the U.S. and Canada on DVD on July 31, 2009 in Christian bookstores and August 1, 2009 in the general market along with a Blu-ray release in February 18th, 2012. It is also a sequel to
Minnesota Cuke and The Search for Samson's Hairbrush
which was released in 2005. Like its predecessor the episode is a parody of the
Indiana Jones
film series. It's lesson is confidence.
Plot
Minnesota Cuke goes on a quest around the world in search for Noah's Ark when he learns of the mysterious and powerful relic "Noah's Umbrella". He then teams up with his best friend, Julia, and his once arch enemy, Professor Rattan, to find it before Rattan's twin brother, Wicker, uses it for his own schemes.
Community content is available under
CC-BY-SA
unless otherwise noted.