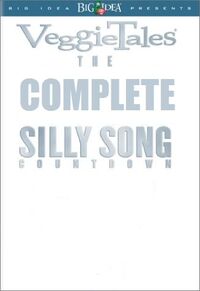 The Complete Silly Song Countdown! is the episode of VeggieTales. Inspired from The Ultimate Silly Song Countdown, it was released on DVD on June 7, 2004, between A Snoodle's Tale and Sumo of the Opera. Larry the Cucumber hosts this episode, for the countdown of his Silly Songs.
Characters:
Silly Songs:
Countdown:
#12!: The Water Buffalo Song
#11!: Hairbrush Song
#10!: Dance of the Cucumber
#9!: I Love My Lips
#8!: The Pirates Who Don't Do Anything
#7!: Song of the Cebu
#6!: His Cheeseburger
#5!: The Yodeling Veterinarian of the Alps
#4!: Endangered Love
#3!: Larry's High Silk Hat
#1!: Sport Utility Vehicle
Community content is available under
CC-BY-SA
unless otherwise noted.