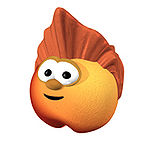 The Peach first appeared in Are You My Neighbor?. The running joke of the Peach is that he, unlike most of the other male characters, has hair. He played Samson, in Minnesota Cuke and the Search for Samson's Hairbrush, but only in various pictures shown throughout the show. He is voiced by Mike Nawrocki. He played himself in The Hairbrush Song in Are You My Neighbor? and played an irs agent in the Oh, Santa! silly song in The Toy That Saved Christmas. He also starred in Merry Larry.
Quotes
"Thanks for the hairbrush!"
"I'm from the irs, and I've come to tax your... (Larry slams the door on him)
Community content is available under
CC-BY-SA
unless otherwise noted.